The Most Important Purchase You Will Ever Make!
The first two weeks of a baby's life are crucial. Very often babies don't wear enough (correct) clothing and get cold-stressed. This results in further weightloss and a difficult start to life!
3 MAIN ISSUES EXPERIENCED BY MIDWIVES
Outfits Too Big
Most newborn clothes are made to last baby's first few months. This means when they are born they are swimming in their clothes.
When the clothes doesn't fit, it can't protect the newborn as well as a snug fit.
The merino works its wonders close the skin, absorbing moisture, creating a microclimate between the skin and the fibres, always keeping your baby at the perfect temperature. It can only protect the baby when fitted against the skin.
Fibres That Harm
well-meaning parents (I've been there!) fill the birth bag with the best items they can think of.  
In the large majority of cases the clothing is made from fibres that will not help your baby. Ranging from synthetics to coarse wool fibres.
Synthetics are made from petroleum and does not allow the skin to breathe or keep your child warm.
Coarse wool fibres, often used in home knitting, while being a heartwarming gift, it will itch your baby's sensitive skin and can create a rash and high levels of discomfort. 
Massive Heat-loss From The Head
The head is one of the largest heat-loss sources for all people.
Babies' heads make out 25% of their body when born versus 10% in adults. 
That means they have a much larger heat-loss area. 
On top of this, many babies are born bald, so no or little hair to keep the head warm. 
This means newborns are at high risk of getting cold, or worse, cold-stressed.
DAY-1 HEIRLOOM LAYETTE DESIGNED FOR NEWBORNS
TWO SIZES FOR NEWBORNS
The fit is SO important. That's why we've created no just one, but two sizes within our newborn range. 
The sizing is based on your baby's weight.
TIP:
90% or babies will need the size 2.5-4 kg/5.5-8.8lbs.
Only if your midwife or doctor has told you that your baby is in the top percentile for size will you need the size up, which is 4-5kg/8.8-11lbs.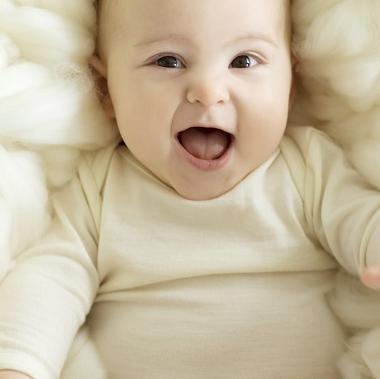 THE SOFTEST MERINO
Made from superfine BEST quality merino from New Zealand, this Layette is so incredibly soft you will not believe it, until you try it.
Our merino fibres are 1/10 diameter of a human hair. So thin it'll bend softly against the skin, no scratch. 
The softest touch!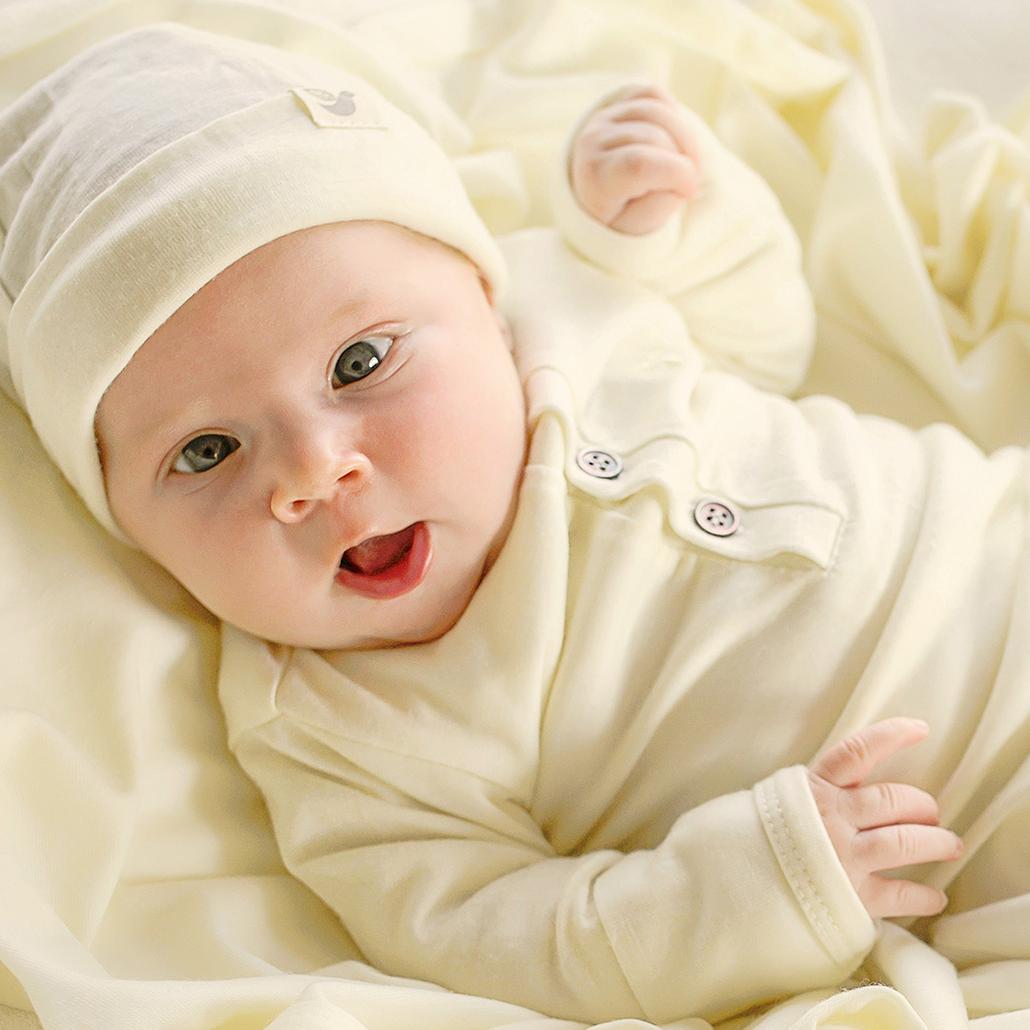 INCLUDES ESSENTIAL BEANIE
Babies lose an incredible amount of heat through their head. From the minute they are born they should wear a beanie to prevent losing heat and get cold-stressed. 
Our beanies are made from our soft organic merino wool and will gently create a safe warm layer on their little heads. 
Made in a small size to fit perfectly when they are born.
"the best investment I ever made! My little girl was put into the Layette right after she was born and I never once had to worry about her temperature being an issue. She was so content" - Stacey, mum of 3
The Day-1 Heirloom Layette is specially created by New Zealand midwife and author Kathy Fray with Roots & Wings merino. Tailormade to look after your newborn on the most special day of his or her life. It's that special outfit your child will wear on the day he or she is born and those most important weeks after.
Made from 100% organic New Zealand merino wool, undyed and natural. 
This layette will support your baby in feeding and sleeping better than any other outfit out there.
Then safely stored in the clothing bag that comes with your purchase, and ready for the next child in the family.
Save it and pass it down.
The Day-1 Heirloom Layette consists of:
1 bodysuit as the base layer
1 jumpsuit (or romper) to put on top
1 beanie to preserve body heat
1 organic muslin bag to safekeep your Layette for the next baby.
Add one merino swaddle wrap blanket for the ultimate baby comfort.
For each Day-1 Heirloom Layette you buy, we give clothing to a newborn in Kenya. Add the blanket, we add a blanket too a Newborn in Kenya too. 
Organic Muslin Bag
We also provide you with an organic muslin bag to keep your merino safe when your baby is done wearing it.
Safely store it away with some lavender to provent moths, and it will be ready for the next baby in the family.
Note: In addition to lavender, we do recommend adding a moth-prevention to your Layette when not in use. 
The Day-1 Heirloom Layette consists of three items - and an optional blanket
A COLLABORATION FOCUSSED ON NEWBORNS
We have developed a new concept together with New Zealand Midwife, Author and Key Note Speaker, Kathy Fray.
An Heirloom Layette
to be worn the first two weeks of your baby's life
, and then passed down through generations. Much like a christening gown or wedding dress.
More importantly, this has been designed and created by Kathy and Stine, bringing together knowledge of newborns and merinowear. 
A LAYETTE TO LAST THROUGH GENERATIONS
Giving Back
Here at Roots & Wings we want to transform lives with every purchase, as a force for good.
you help a newborn in kenya 
There are newborns that need help all over the world.
So we want to let you know that for each order of our Day-1 Heirloom Layette we will donate a garment to a newborn in Kenya.
Learn more about how we Give Back
here
.
SEE WHAT OTHER MUMS SAID ABOUT OUR MERINO


See what happened when Emily tried a cheaper merino top for her baby


Hear what Katrine has to say about buying lower quality options
Limited availability!
Organic, High Quality, and International Award Winning: Best For Your Baby!
Free Global Shipping
Order right now and we'll ship it to you for FREE anywhere in the world.
UNIQUE BENEFITS OF MERINO
The bodysuit from Roots & Wings Merino is unconditionally our favourite for Little Sister. She's been able to fit it for over 9 months now and the merino is both light and fine - wonderful when it's her base layer - and silky soft and most importantly: it keeps her at the perfect temperature.
Stine O. Mother to 3 little girls
I don't have to think too much about how I dress my little guy in the morning. I know when he's wearing Roots & Wings underneath he's happy. I've tried using other wool base layers, but he starts screaming. So I like to keep it easy and Roots & Wings does that. Plus we love how easy it is to wash (in the machine!!!), so we use it basically every day! You'd be crazy not getting this for your baby!
Andreas - Dad to Little Frederik
Shop our limited edition Day-1 Heirloom Layette
today

and experience the Roots & Wings difference!
Save 10%
When you buy the Day-1 Heirloom Layette you automatically save 10% off the total value of this bundle.
And we'll ship it to you for FREE anywhere in the world.
THINK-AHEAD OFFER
Babies grow quickly. Get a better deal below on our limited edition bodysuits and drawstring pants and be prepared for the seasons ahead.
Simply click the "buy now!" button below. From the shop select either bodysuit or drawstring pants, size and colour.
Your discount will be applied automatically when you reach check-out (not in the cart).
1 garment (bodysuit or pants) + FREE SHIP
BioGro Certified Organic Merino
bodysuit or pants
2 garments (bodysuit or pants) + FREE SHIP
BioGro Certified Organic Merino
bodysuit or pants
3 garments (bodysuit or pants) + FREE SHIP
BioGro Certified Organic Merino
bodysuit or pants
Save 20%!